Dermalogica and iS Clinical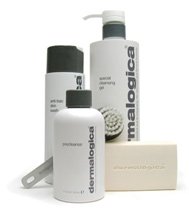 Dermalogica is a leader in the skin care industry, and it's easy to see why. Their exceptional products treat a wide variety of skin concerns using top-notch ingredients and expertly designed technologies. Dermalogica is a favorite of spas and dermatologists worldwide. The Moment Your Skin Changed. Forever. When Dermalogica meets skin, skin health is redefined. Dermalogica is the number one choice of skin care professionals and consumers worldwide. Why? Because for over 25 years, we've been dedicated to delivering skin health results through education, innovation, and professional recommendation, not through advertising, frilly packaging, promises of miracle cures, or overblown hype. Truly understanding your skin is the first step towards a lifetime of skin health. Start with a Dermalogica professional skin therapist: fortunately, with over 75,000 of them in over 50 countries, chances are you have a skin health expert just around the corner. Armed with Dermalogica's unique Face Mapping® skin analysis, your Dermalogica professional skin therapist will decode your skin – zone by zone – and equip you with the real advice and results-driven regimen only available from a trained professional. Now that you know our story, it's time to explore the story of your skin. Experience our online Speed MappingSM for the product regimen that will change skin health forever!
---
iS Clinical Skin Care - Innovative Skincare

Skin care fiends flock toward iS Clinical for a healthy approach to skin care. iS Clinical is the ultimate skin rejuvenation product line, with unique treatments that repair and revitalize the skin. By using the power of antioxidants and effectiveness of hydration, iS Clinical produces visible results.

Background
Innovative Skincare created iS Clinical to embody its namesake and prove its worth. By developing and utilizing cutting-edge research technology, Innovative Skincare doctors and scientists precisely created products that deliver rapid, safe, long-term positive results.

Science
All iS Clinical products are designed to promote healthy skin function and durability, rather than just mask the problems and symptoms. With ingredients such as Hyaluronic Acid to bind moisture, Glycolic Acid to resurface and renew, and Retinol to boost skin density, iS Clinical proves that your skin can look as good as you treat it.

Solutions
With products to counteract the effects of aging, acne, hyperpigmentation, rosacea, and the harmful effects of the sun, iS Clinical has a product for every skin type and condition. In fact, what\'s so nice about iS Clinical, is many of its products treat multiple skin conditions. And who doesn't want fewer skin care products cluttering the bathroom counter.